Smell that? It's the fresh scent of springtime air.
And that means a whole array of tasty vegetables, fruits and healthy grains that are ripe and ready for cooking.
From spring salads, to onion frittatas, to rice cakes, soups and more, we put together our 10 favorite, light, crisp recipes that taste like springtime.
 
1) Spring Niçoise Salad
Serves: 4

Calories: 290
Ingredients:
6 baby beets, greens removed and washed
2-1⁄2 Tbs. red-wine vinegar; more as needed
1 lemon, halved, plus 1 Tbs. freshly squeezed lemon juice
8 baby artichokes, trimmed
1 cup plus 4 Tbs. extra-virgin olive oil
1⁄4 cup dry white wine
2 sprigs fresh thyme
Red pepper flakes
Kosher salt
3⁄4 lb. new potatoes
1 clove garlic, pounded to a smooth paste with a pinch of salt
1 Tbs. Dijon mustard
1 large egg yolk
1 lb. tuna, such as yellowfin or ahi, cut into even slices about 1 inch thick
Freshly ground black pepper
2 not-so-hard-cooked eggs, peeled
1 handful arugula, preferably wild, or young dandelion (about 1 oz. total), washed and dried
Directions:
Heat the oven to 350º F. Put the beets in a single layer in a baking dish. Add water to come about 1/2 inch up the side of the dish. Cover with foil and roast until the beets can be pierced with a sharp knife, about 45 minutes. When cool, peel and cut them into 1/2-inch wedges, and toss with 1 Tbs. of the vinegar and salt to taste; let sit for 10 to 15 minutes.
Fill a large bowl with cold water. Squeeze the juice of the lemon halves into it. Trim off the top quarter of the artichokes and snap off the tough outer leaves. Using a small, sharp knife, peel the stem and the base of the artichokes, then cut them in half and scoop out the choke with a spoon. As you finish trimming each artichoke, drop it into the bowl of water and lemon juice to prevent browning.
Just before cooking, drain the artichokes well. Warm a medium skillet over medium heat. Add 1⁄4 cup olive oil, the artichokes, wine, 1⁄2 cup water, the thyme, and a pinch of red pepper flakes. Season with salt and simmer, uncovered and stirring occasionally, until the artichokes are tender when pierced at the base with a small, sharp knife, 10 to 15 minutes, depending on the size of the artichokes. If the liquid evaporates before the artichokes are tender, add a splash more water. Let cool at room temperature and then taste for salt.
Put the potatoes in a shallow baking dish or pan just large enough to hold them in a single layer. Drizzle with 1 Tbs. oil, season with a generous amount of salt, and toss well. Add a splash of water (just enough to create a little steam as the potatoes cook). Cover tightly with aluminum foil and bake until the potatoes can be easily pierced with a small, sharp knife, 30 to 40 minutes, depending on the size of the potatoes. Remove from the oven, vent the foil, and let cool at room temperature.
To make the vinaigrette, combine the garlic, mustard, 1-1/2 Tbs. vinegar, and 1 Tbs. lemon juice in a small bowl. Let sit for 5 to 10 minutes. Whisk in the egg yolk, and then slowly whisk in 3⁄4 cup oil. Thin the vinaigrette with a few drops of cool water if necessary (you want it thin enough to drizzle nicely.) Taste and adjust with more salt or vinegar if necessary. Set aside.
Shortly before serving, halve or quarter the potatoes (depending on size and preference) and season with about 1-1⁄2 Tbs. of the vinaigrette. Set aside.
Season the tuna on both sides with salt and freshly ground black pepper. Warm a large skillet, preferably cast iron, over high heat until very hot. Add 3 Tbs. oil and place the tuna in the skillet. Cook, without moving, until seared and nicely browned, about 2 to 3 minutes, depending on the thickness of the tuna. Turn and cook on the opposite side for another 2 to 3 minutes. (The tuna should be pink in the center.) Transfer to a plate and set aside.
Drain any liquid from the artichokes and discard the thyme. Cut the eggs into quarters and season with salt and freshly ground black pepper. Scatter about half of the arugula around a large platter or individual plates. Tuck the potatoes, artichokes, beets, and eggs in and around the greens. Using your hands, break the tuna into rustic pieces, or slice it with a knife and nestle it in and around the other ingredients.
Drizzle about 1⁄4 cup vinaigrette over the platter, or about a Tbs. over individual portions, and serve immediately, passing the remaining vinaigrette at the table.
Recipe courtesy Fine Cooking
 
2) Spring Onion and Roasted Red Pepper Frittata
Serves: 2
Calories: 400
Ingredients:
Large new potatoes 300g, peeled and sliced
Spring onions ½ bunch, chopped (including green bits)
butter
Roasted red peppers 2 large from a jar, chopped
Eggs 6, beaten
Salad to serve
Directions:
Cook the potatoes in salted boiling water until tender. Drain and cool.
Cook the spring onions in a large knob of butter until soft. Mix into the eggs with the peppers and potatoes and season well.
Heat a small 20cm non-stick pan with butter then tip in the egg mix. Cook gently until the bottom is set then slide the pan under the grill until the top is golden and just set.
Serve with salad.
Recipe courtesy Olive Magazine
 
3) Simple Asparagus Soup
Serves: 4

Calories: 124
Ingredients:
2 cloves garlic minced
1 lb asparagus ends trimmed and coarsely chopped
3 cups chicken or vegetable stock
2 tsp kosher salt
½ tsp white pepper
* ½ cup heavy cream or plain greek yogurt – optional
Lemon Crème Fraiche
½ cup crème fraiche
1 Tbsp lemon juice
1 tsp lemon zest
¼ tsp kosher salt
Directions:
Asparagus Soup
Melt butter with olive oil in a medium pot over medium heat.
Add onion and saute 3 mins and then add the garlic and saute another 2 mins.
Add the asparagus, stock, salt and white pepper, cover and simmer 10-15 mins until the asparagus is just fork tender.
Puree with an immersion blender or in a blender until smooth. Add additional stock as needed to achieve desired consistency.
Blend in cream or yogurt if desired.
Lemon Crème Fraiche
Whisk all the ingredients together in a small bowl.
To serve: Ladle soup into bowls ad drizzle with lemon creme fraiche.
Recipe courtesy What Should I Make For
 
4) Lemon Risotto With Asparagus And Peas
Serves: 2

Calories: 310
Ingredients:
1 cup arborio rice
½ cup white wine
1 clove garlic, minced
½ large onion, chopped
3 cups veggie stock
2 tablespoons butter (I use non-dairy butter)
½ tablespoon olive oil
1 egg yolk, beaten
1 small lemon, zest and juice
½ cup peas (or however much you like)
1 cup asparagus, chopped into 1-inch pieces
4 basil leaves, chopped
handful of sprouts
salt & pepper
sun dried tomatoes (optional)
shaved parmesan or pecorino (optional)
red pepper flakes (optional)
water or more stock, if needed
Directions:
Put veggie stock in a pan on the stove and simmer.
In a large skillet over medium heat, heat butter, oil, onion, garlic, and a few pinches of salt. Cook until onion is soft, 4-5 minutes.
Add rice, stir together, and let the rice toast for about 1 minute.
Add white wine and half the lemon juice and let it cook, stirring for about 2 minutes until the wine is somewhat evaporated.
Add stock, one ladle full at a time, stirring continuously. When stock becomes mostly cooked down, add the next ladle full. This process should take about 20 minutes. Add more stock or water if necessary. During the last few minutes of this process, add in asparagus and peas.
Remove pan from heat. Mix in sun dried tomatoes, remaining lemon juice, lemon zest (reserve a bit for garnish at the end), beaten egg yolk, and cheese (if using). Stir together. Taste and adjust seasonings. Add more hot stock if necessary to reach your desired consistency.
Scoop into bowls and garnish with lemon zest, sprouts, basil, red pepper flakes & grated cheese, if you like.
Recipe courtesy Love & Lemons
 
5) Spring Tuscan Quinoa Bake
Serves: 6

Calories: 285
Ingredients:
1/3 cup olive oil
1/4 cup sun-dried tomato pesto
1 tablespoon dried basil
2 teaspoons dried oregano
1 teaspoon dried parsley
1 teaspoon dried dill
1 teaspoon crushed red pepper or to your liking
1-2 cloves garlic minced or grated
salt + pepper to taste
1/3 cup kalamata olives halved
1/3 cup roasted marinated artichokes, drained + roughly chopped
2 tablespoons pickled pepperoncinis roughly chopped (optional)
3 cups cooked quinoa*
4-8 ounces ricotta cheese omit for vegan version
8 ounces mozzarella cheese shredded (omit or use vegan cheese for vegan version)
2-3 red bell peppers sliced
8-12 pepperonis optional
2-4 ounces pecorino cheese freshly grated (omit for vegan version)
cherry tomatoes + freshly torn basil for topping
Directions:
Preheat the oven to 375 degrees F. Add the olive oil (make sure the oil covers the entire bottom of the baking dish, if not add more oil), now add the sun-dried tomato pesto, dried basil, dried parsley, dried oregano, dried dill, crushed red pepper, garlic and salt and pepper to a 9 x 13 inch or slightly smaller baking dish (I like using one of those oval dishes that is just a little smaller than a 9×13). To the baking dish add the cooked quinoa, the olives, artichokes and pepperoncinis.
Toss well until all the ingredients are evenly distributed. Dollop the ricotta over the mixture and gently mix to combine.
Overtop, sprinkle on the mozzarella cheese and then scatter the sliced red peppers over top. At this point it will seem like there are too many peppers, but this is fine. They will cook down.
Place the pepperonis on top. Sprinkle on top 2-4 ounces of pecorino and another drizzle of olive oil. Bake in the preheated oven for 40 to 45 minutes or until the top is browned and the peppers have softened.
Remove from the oven and garnish with fresh basil, tomatoes and more pecorino or parmesan. Cut and eat.
Recipe courtesy Half Baked Harvest
 
6) Spinach Pesto Pasta with Shrimp
Serves: 4

Calories: 400
Ingredients:
Pesto
2 cups packed fresh baby spinach
1 cup packed fresh basil leaves
1/2 cup loosely packed fresh flat-leaf parsley
1/2 cup seeded chopped plum tomato
6 tablespoons chopped toasted walnuts
2 teaspoons fresh lemon juice
1/2 teaspoon kosher salt
1/2 teaspoon black pepper
1 1/2 ounces Parmesan cheese, grated (about 1/3 cup)
1 garlic clove, chopped
2 tablespoons extra-virgin olive oil
Pasta
8 ounces uncooked whole-wheat penne pasta
1 pound fresh asparagus, cut into 2-in. pieces
1 tablespoon olive oil
1 tablespoon unsalted butter
1 pound large fresh shrimp, peeled and deveined
1/4 teaspoon ground red pepper
1/4 teaspoon black pepper
1/2 cup halved multicolored grape tomatoes
1/4 teaspoon kosher salt
Directions:
To prepare pesto, bring a large saucepan filled with water to a boil. Add spinach and basil; cook 20 seconds. Remove spinach mixture to a bowl filled with ice water (reserve water in pan); let stand 30 seconds.
Drain and pat dry with paper towels.
Place parsley and next 7 ingredients (through garlic) in food processor; process until finely chopped. Add spinach mixture and 2 tablespoons oil; process to combine. Place 3/4 cup pesto in a small bowl; place plastic wrap directly on pesto. Reserve for Pesto Chicken with Blistered Tomatoes and Vegetable Soup au Pisto.
To prepare pasta, return water in pan to a boil. Add pasta; cook according to package directions, adding asparagus during last 5 minutes of cooking. Drain in a colander over a bowl, reserving 3/4 cup cooking liquid.
Heat 1 tablespoon oil and butter in a large skillet over medium-high until butter melts. Sprinkle shrimp with red pepper and 1/4 teaspoon black pepper. Add shrimp to pan; cook 1 to 2 minutes on each side or until done. Remove shrimp from pan.
Add pasta mixture and reserved 3/4 cup cooking liquid to pan; cook 1 minute. Stir in remaining 6 tablespoons pesto, shrimp, grape tomatoes, and 1/4 teaspoon salt. Divide pasta mixture evenly among 4 bowls.
Recipe courtesy Cooking Light
 
7) Broccoli, Cheddar and Brown Rice Cakes
Serves: 4

Calories: 280
Ingredients:
Cooking spray
1 tablespoon unsalted butter
3/4 cup chopped yellow onion
4 garlic cloves, chopped
3/4 cup unsalted vegetable stock (such as Swanson)
12 ounces fresh broccoli florets, cut into 1/2-in. pieces
1 (8.8-oz.) pkg. precooked brown rice (such as Uncle Ben's)
1/4 cup whole-wheat panko (Japanese breadcrumbs)
1 tablespoon grainy mustard
1/2 teaspoon black pepper
3/8 teaspoon kosher salt
3 ounces preshredded reduced-fat sharp cheddar cheese, divided (about 3/4 cup)
2 large eggs, lightly beaten
Sliced green onions (optional)
Directions:
Preheat oven to 450°F. Coat a baking sheet with cooking spray.
Melt butter in a large skillet over medium-high. Add onion and garlic; sauté 4 minutes. Add stock and broccoli. Bring to a boil; cook 3 minutes.
Heat rice according to package directions. Combine broccoli mixture, rice, panko, mustard, pepper, salt, and 1/2 cup cheese in a large bowl. Stir in eggs. Divide and shape broccoli mixture into 8 (2 1/2-inch) patties. Arrange patties on prepared pan; coat patties with cooking spray.
Bake at 450°F for 15 minutes.
Top with remaining 1/4 cup cheese, and bake at 450°F for 4 more minutes or until cheese melts.
Garnish with green onions, if desired.
Recipe courtesy Cooking Light
 
8) Easy Zucchini Noodle and Bean Chili
Serves: 4-6

Calories: 303
Ingredients:
1 tablespoon extra virgin olive oil
1 small red onion, diced
2 garlic cloves, minced
2 carrots, peeled and diced
2 celery stalks, diced
1 green bell pepper, diced
1 red bell pepper, diced
1 jalapeño pepper, seeded and diced
1 (14. ounce) can pinto beans, drained and rinsed
1 (14.5 ounce) can red kidney beans, drained and rinsed
1 (14.5 ounce) can Great Northern or cannellini beans, drained and rinsed
2 (14.5 ounce) cans diced tomatoes (no salt added)
1 (8 ounce) cans tomato sauce
1 tablespoon chili powder
1 tablespoon oregano flakes
1 tablespoon ground cumin
salt and pepper, to taste
2 medium zucchini, Blade D, noodles chopped
Directions:
In a large pot, heat the olive oil over medium-high heat. Add the onion and cook until translucent, about 5 minutes. Add in the garlic, carrot, celery, peppers, and jalapeño. Cook until vegetables are softened, about 10 minutes. Add the beans, tomatoes, tomato sauce, and season with oregano, chili powder, cumin, salt and pepper.
Bring to a boil and then reduce heat to low and simmer for about 30 minutes or until chili thickens. Taste and adjust to your preferences.
Once chili is thickened, add in the zucchini noodles and stir to combine thoroughly.
Let cook for 2-3 minutes before serving. Serve into bowls.
Recipe courtesy Inspiralized
 
9) Sesame Peanut Zucchini + Carrot Noodles
Serves: 4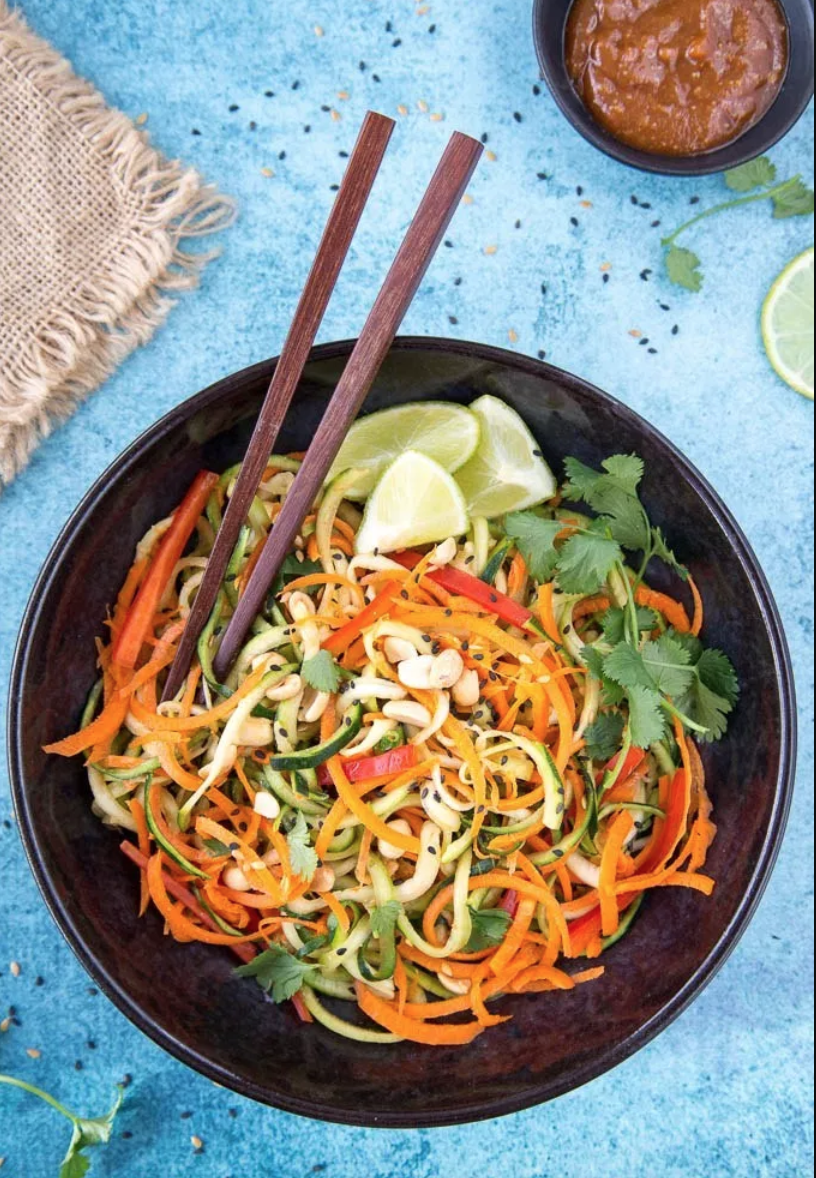 Calories: 100
Ingredients:
3 medium zucchini
2 large carrots
½ red bell pepper, seeded and sliced thin
1 Tbsp reduced sodium soy sauce ( or coconut aminos for Paleo)
2 tsp pure maple syrup
2 tsp sesame oil
1-2 cloves garlic, minced ( or ⅛ tsp garlic powder)
½ tsp sriracha ( more or less to taste)
¼ tsp rice wine vinegar ( or a squeeze of lime)
1 Tbsp creamy peanut butter (or almond butter for Paleo)
Optional garnishes, sliced green onion, toasted sesame seeds, chopped cilantro
Directions:
Wash the zucchini and cut off ends. Use a spiralizer ( or julienne peeler) to create "noodles" . Line a bowl with paper towels or a clean tea towel. Place zucchini noodles in bowl while you make the carrot noodles and sauce.
Wash and peel carrots. Use a spiralizer ( or julienne peeler) to create "noodles." Cut red bell pepper into thin strips.
In a small bowl, whisk together soy sauce, maple syrup, sesame oil, sriracha, rich vinegar and peanut butter. (It may be necessary to add ½ tsp or so of water to create a creamy sauce.)
Squeeze excess water from zucchini noodles by gently squeezing with clean hands or by wrapping in tea towel/clean cloth.
Recipe courtesy Simple Healthy Kitchen
 
10) Arugula, Carrot and Chickpea Salad with Wheat Berries
Serves: 4

Calories: 500
Ingredients:
1 cup dried wheat berries (or spelt berries or farro, adjust cooking time accordingly)
2 cups cooked chickpeas or 1 can chickpeas, rinsed and drained
4 carrots, sliced into ribbons using a vegetable peeler
½ cup feta cheese, crumbled
4 to 6 cups arugula (if it's not baby arugula, you might want to give it a few chops to break it into smaller pieces
Dressing ingredients:
⅓ cup olive oil
2 teaspoons honey
2 garlic cloves, pressed
¼ teaspoon red pepper flakes
1 small lemon, juiced
½ teaspoon ground sea salt or kosher salt
freshly ground black pepper, to taste
Directions:
Cook the wheat berries (Note: Wheat berries take an hour to cook).
Bring 4 quarts of water to a boil in a large pot. Stir in the wheat berries and ½ teaspoon salt. Partially cover the pot with a lid and cook, stirring often, until the berries are tender but still a little chewy (about an hour).
Drain the wheat berries and let them cool to room temperature (you can speed up the cooling process by pouring them onto a rimmed baking sheet or pouring them into a large bowl, stirring occasionally).
While the berries are cooking, whisk together the dressing ingredients.
Transfer the cooled wheat berries to a big bowl.
Add the chickpeas, carrots, feta cheese and arugula and toss to combine.
Drizzle in the dressing and toss to coat. Serve immediately.
Recipe courtesy Cookie & Kate
Do you have a favorite spring-inspired recipe? Share it in the comments below!
 
————————————————————————————
Author: Caitlin H
Diet-to-Go Community Manager
Caitlin is the Diet-to-Go community manager and an avid runner. She is passionate about engaging with others online and maintaining a healthy, active lifestyle. She believes moderation is key, and people will have the most weight loss success if they engage in common-sense healthy eating and fitness.